SPS will be offering free Covid-19 testing to children and adults November 15-19 and as needed during Thanksgiving Break.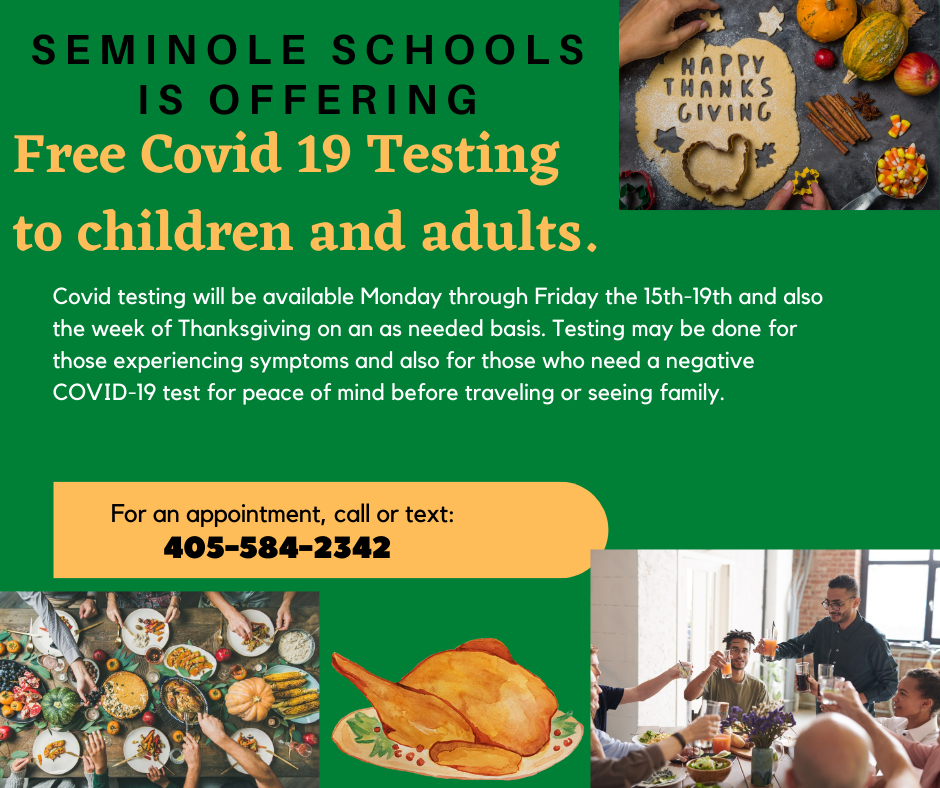 Seminole Public Schools is hiring a full-time Spanish Translator/Interpreter/Tutor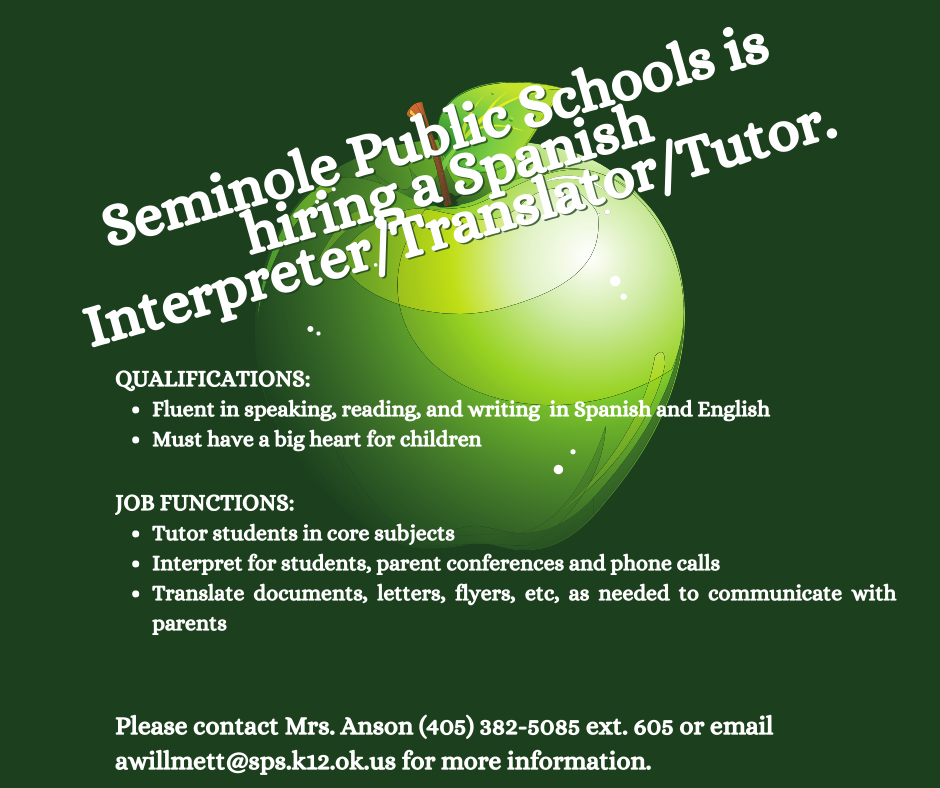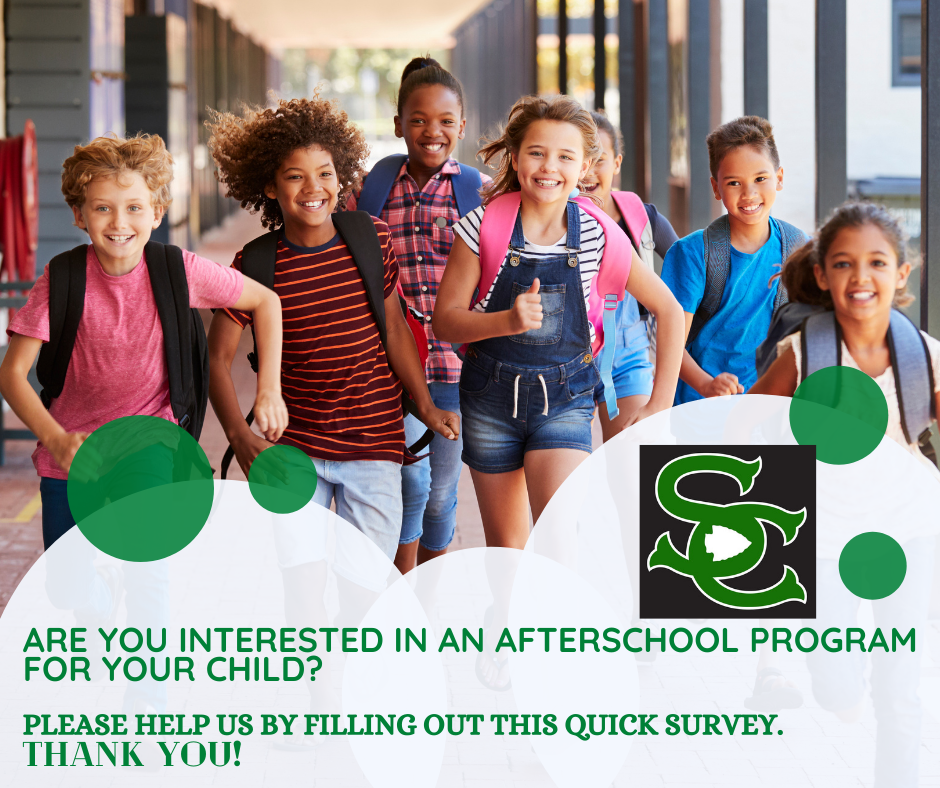 Social Media Challenges 10.13.2021

JOM Meeting 10-05-2021 @ 6:30 p.m.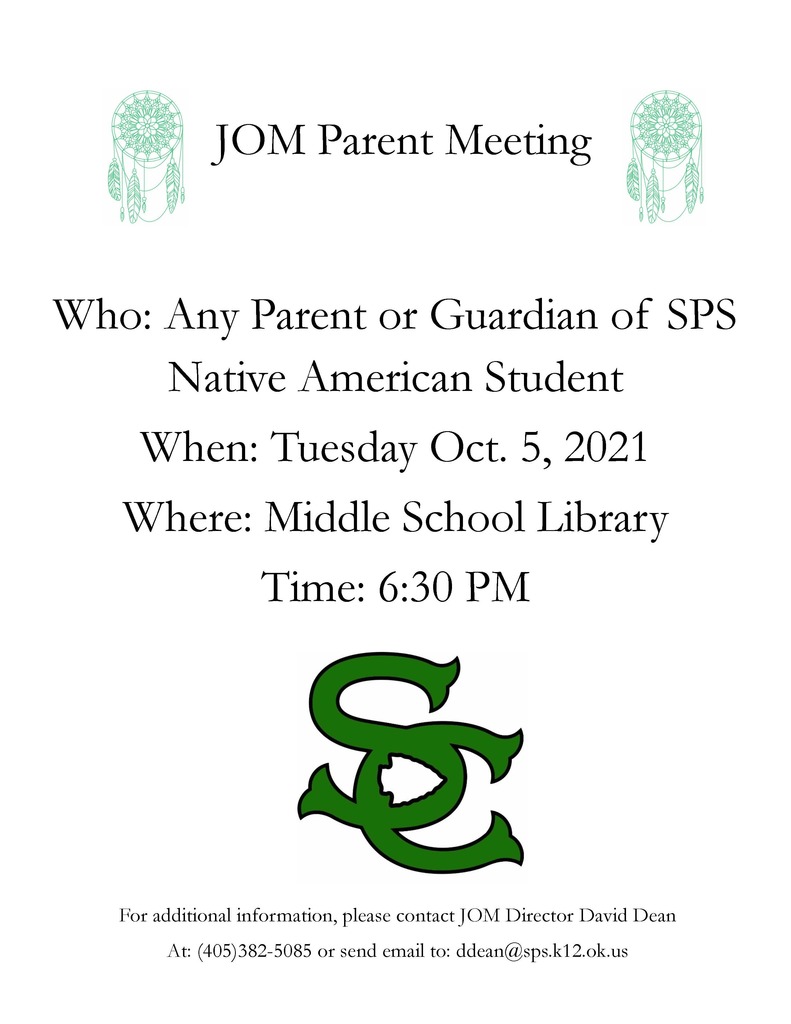 Title VI Indian Education Parent Advisory Committee Meeting 09.30.2021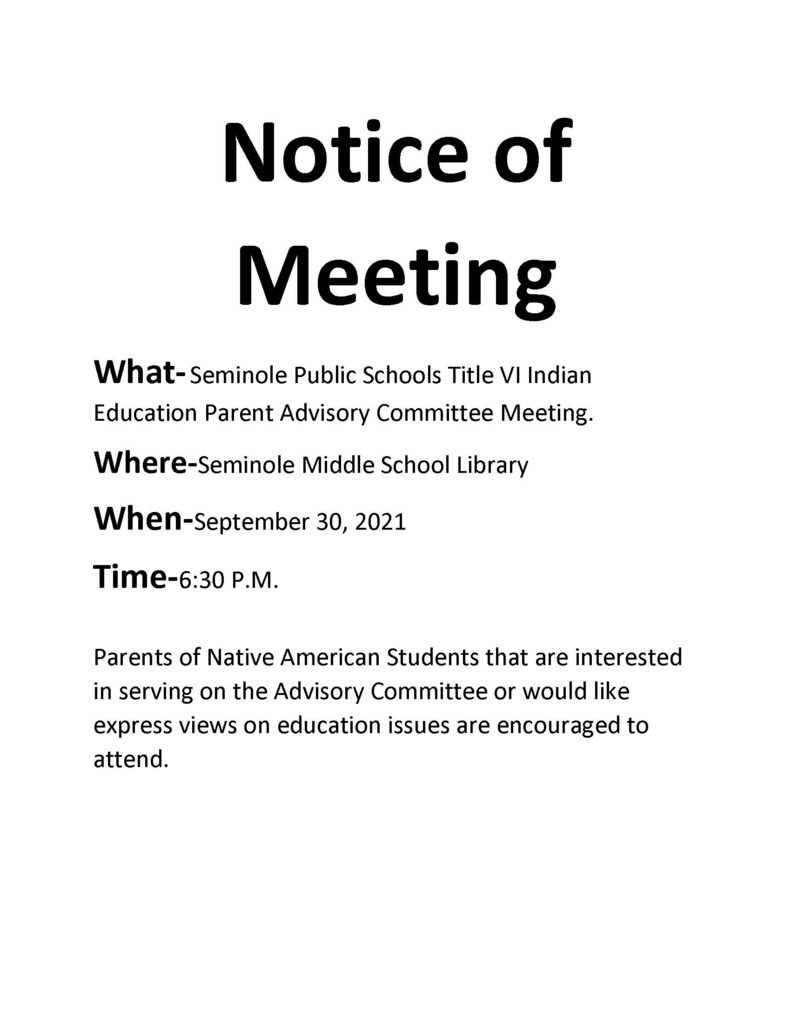 This year's 2021 'Out of this World' Homecoming week is kicking off tomorrow, September 20th, at SHS and we are ready to celebrate! Since as far back as 1928 our Chieftains have been celebrating the school, the alumni and the traditions during Homecoming week and we are honored to continue these traditions. There are many things planned this week for our students; float building for the homecoming parade on Friday, dressing up each day to show our school spirit, classroom door decorating contests, a traditional car smash, and finally, welcoming our community and alumni back to watch our '21 Homecoming Court be crowned before watching our Chieftains take on Stigler... it going to be a great week to say the least! Attached are a few things that Student Council has diligently worked hard to plan and we are thrilled to invite our students, faculty, community and alumni to join in on the festivities! We are eager to see the Chieftain Spirit this upcoming week! #homecomingweek #21SHSHOCO #OutofthisWorldHoCo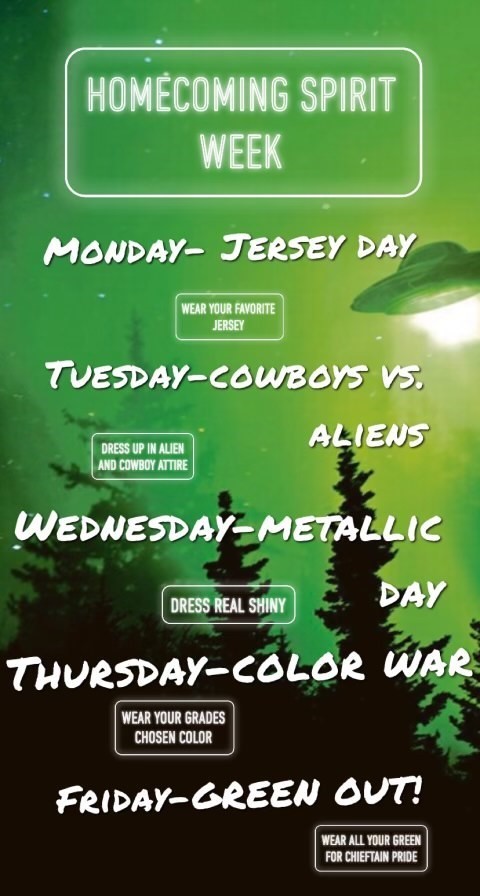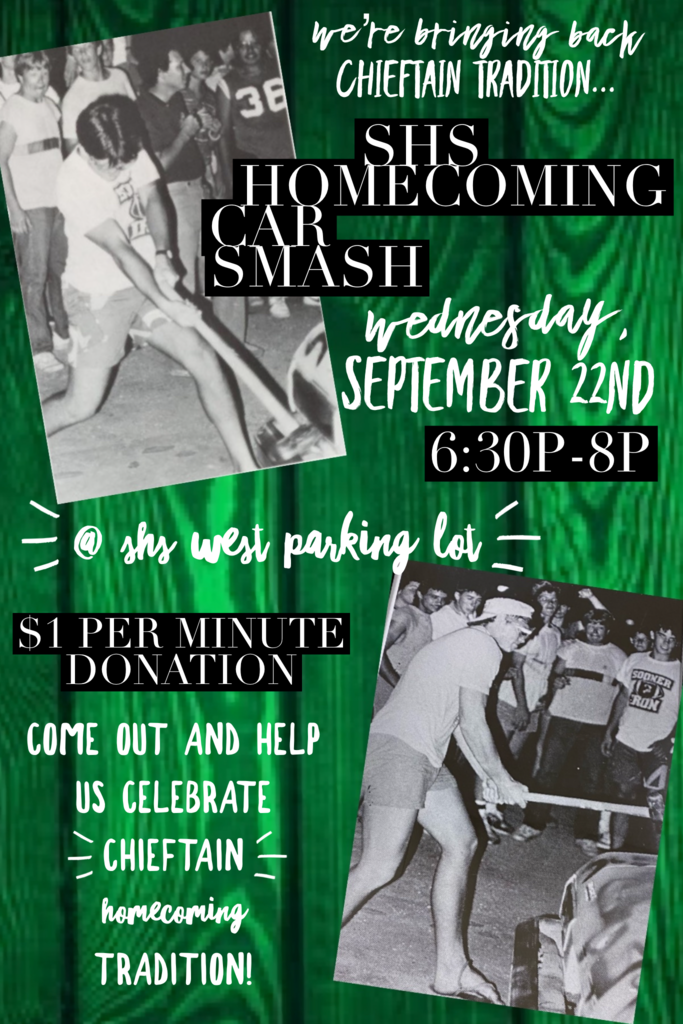 🍎📚✏️We are hiring✏️📚🍎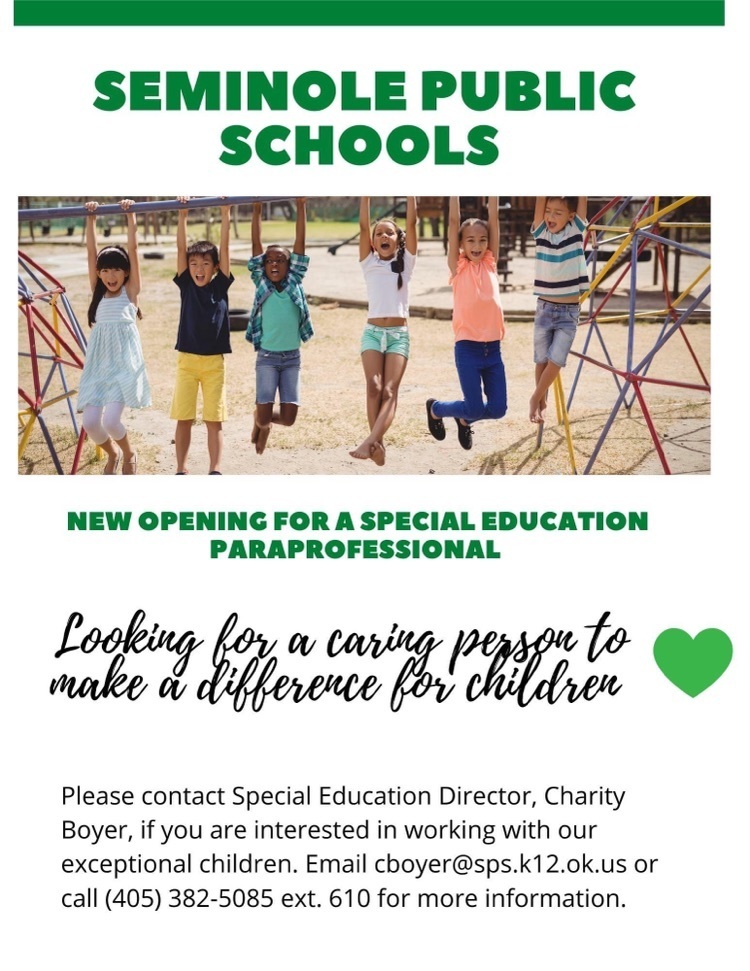 There is nothing more important to Seminole Public Schools than the health and safety of our students, our staff, and their families. Due to large and growing numbers of Covid related illnesses and symptoms in both staff and students, beginning Wednesday, September 1 through Friday September 10, 2021, Wilson Elementary and Northwood Elementary will move to distance learning. Seminole Early Learning Center, BLS, SMS, and SHS will continue learning in person. School work packets will be sent home with grades 1-5. Chromebooks will be sent home for the 6th grade. For students who are absent/quarantined today, August 31, arrangements for the pick-up of packets will be announced soon. School meals will be distributed per the chart below. If you or your child is ill, please know that we hope you concentrate on getting better, not on school work. Make-up work will be accepted late and much grace will be given. Students will return to in person learning on Monday, September 13, 2021. A system assessment tool and COVID-19 related information is posted on our website (
www.sps.k12.ok.us
) Please call the school superintendent's office for more information. (405) 382-5085 ext 601 Meals for both sites are to be picked up at Northwood Elementary. Friday, September 3, 2021 10 a.m.-12 p.m. 4 days' worth of meals Tuesday, September 7, 2021 10 a.m.-12 p.m. 4 days' worth of meals

Seminole Public Schools phone lines are down. AT&T has an issue they are working to resolve. The emergency phone number for Seminole Public Schools is (405) 382-8281.

Afternoon Pick-Up Times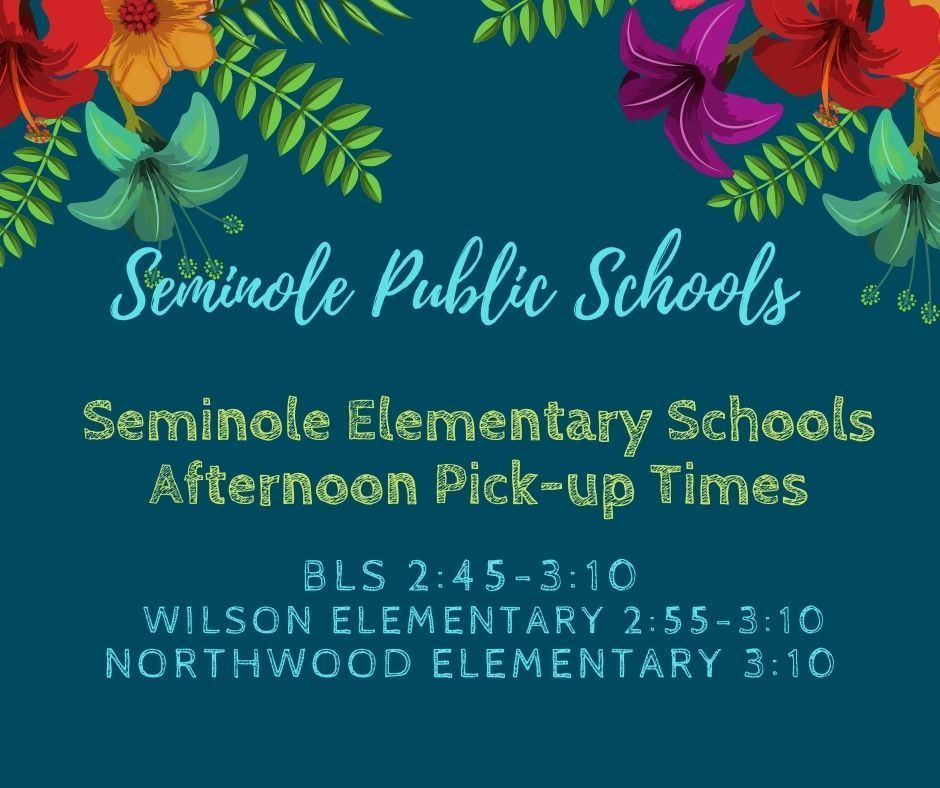 Enrollment for 2021-2022 School Year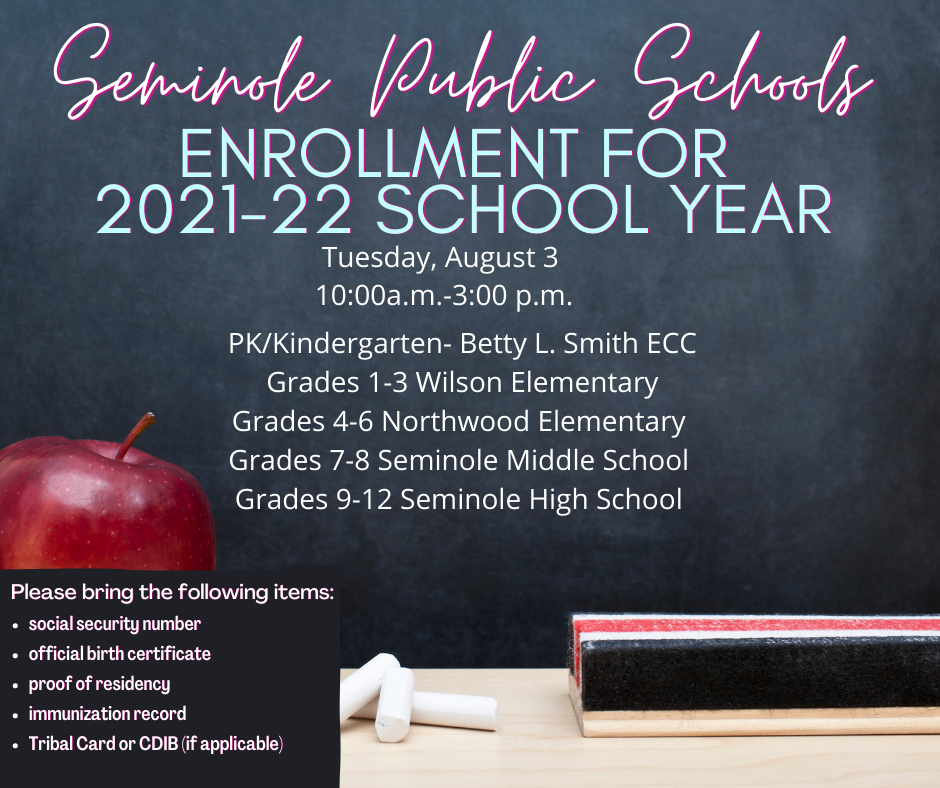 We are looking for great substitute teachers!🍎📚✏️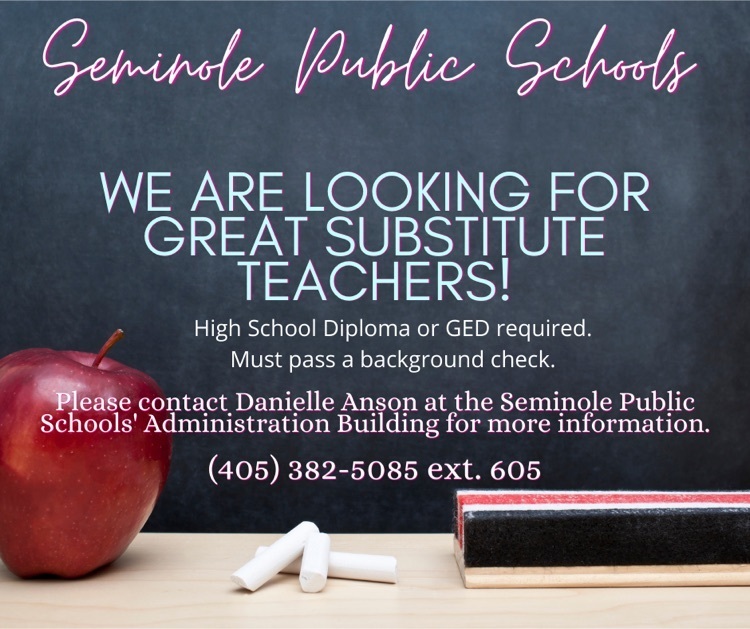 📚🍎✏️We are hiring✏️🍎📚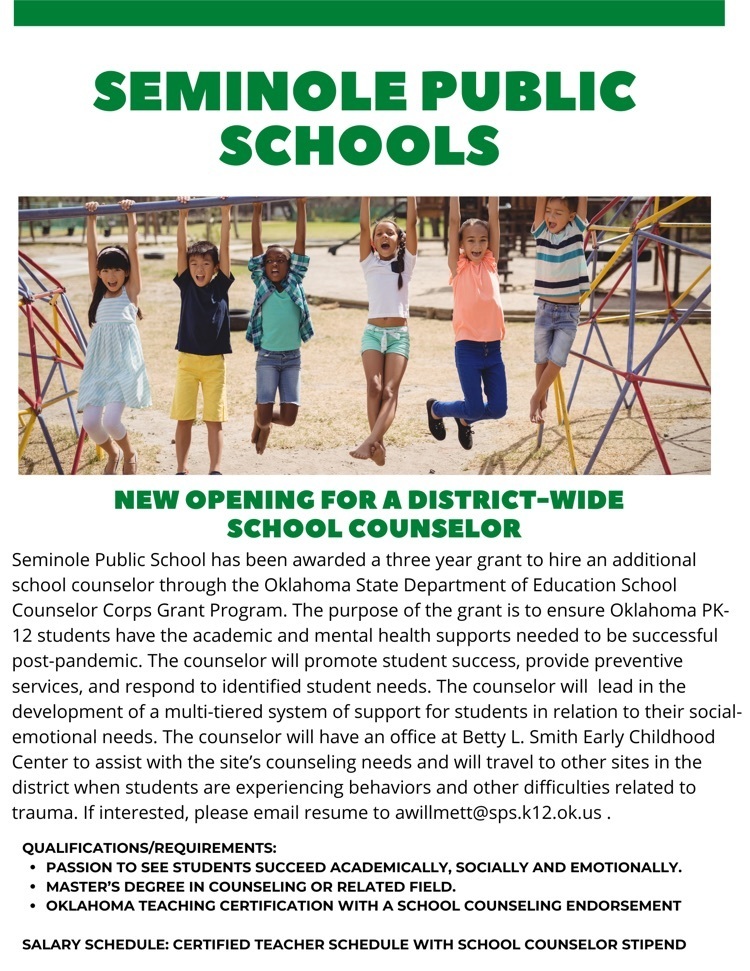 WE ARE HIRING💚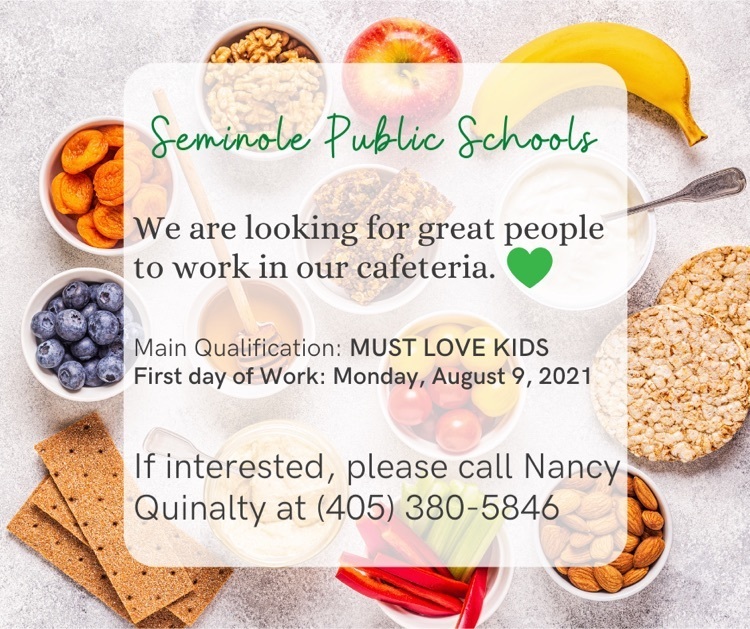 ✏️🍎📚WE ARE HIRING✏️🍎📚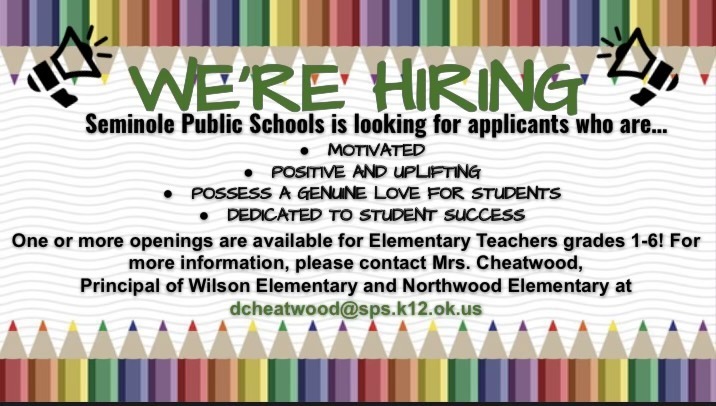 Seminole Public Schools is excited to announce our three-year-old program! The Chieftain Early Learning Center will be open full day for the 2021-2022 school year. Applications will be online only and will be available July 1, 2021 on a first come, first serve basis.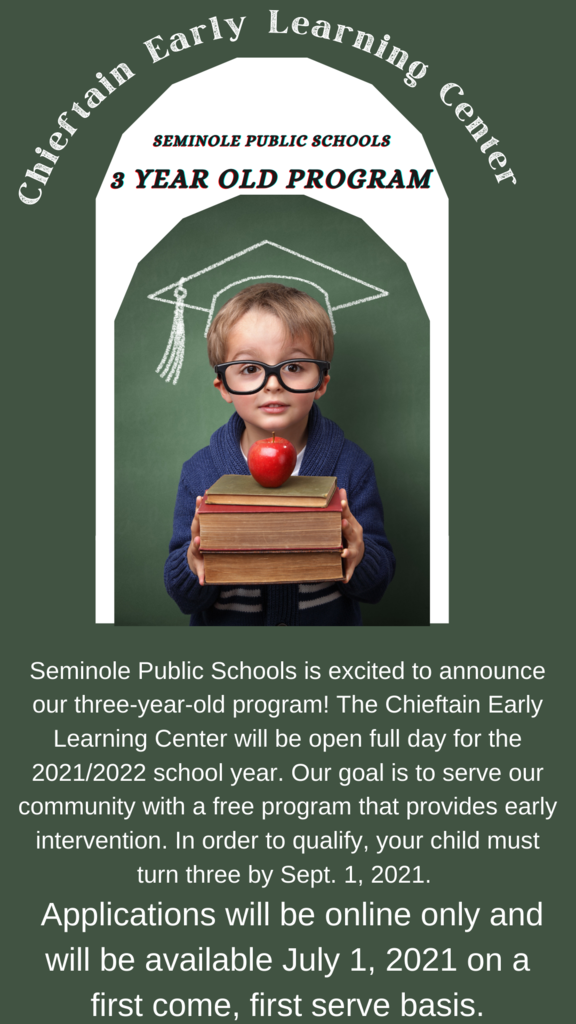 Join Zoom Meeting
https://zoom.us/j/94426872384
or call (346) 248 7799 Meeting ID: 944 2687 2384 Post Pandemic Planning June 17th, 2021 7:00 p.m. SPS Boardroom 600 West Strother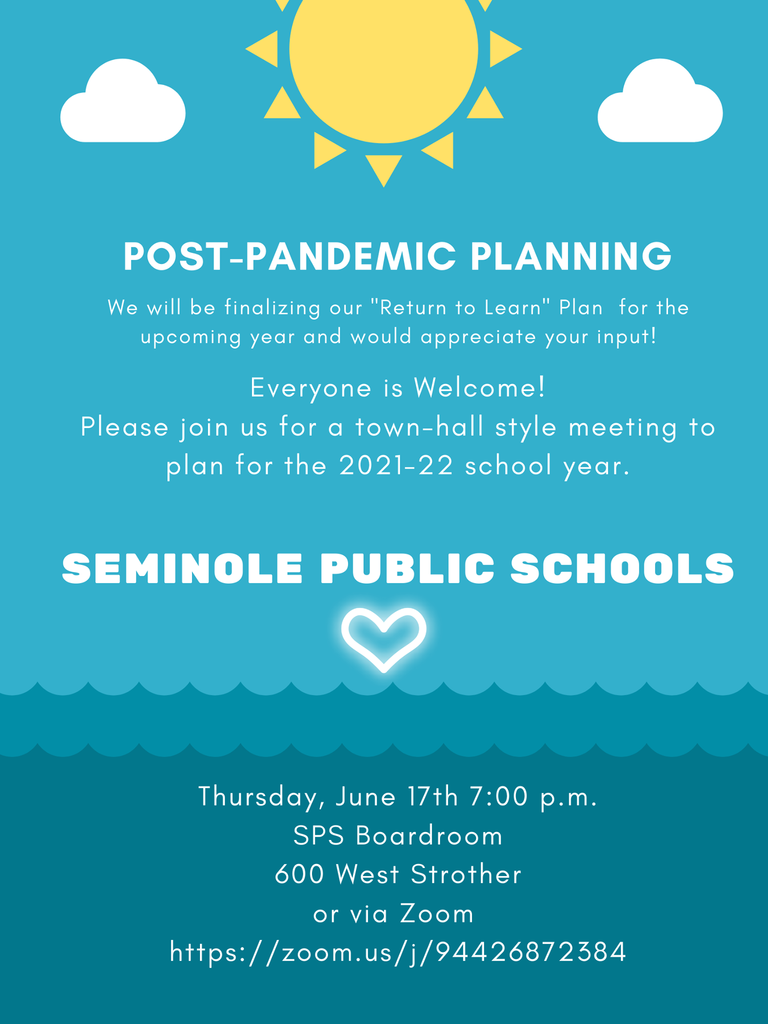 Reminder: We will not have Camp I Can June 7-10. Camp will resume on June 14th.